Its been so long since I updated my blog! I feel a bit bad about it really.Its not that I havent been creating or that I havent had anything to say, but more just not in the right frame of mind.
After having hurt my back at work ,things started to go downhill. To cut a long story short , I found out something that could have lost me my job & also had a break down in a close family relationship.Anyway I fought back & although some days are difficult , I am still in my role.I have also changed my perspective on things & now I have this ethos that I do things for me & myself & my nearest & dearest.Life is changing & at a very fast pace!
My eldest son, Robert has gone to live in Austria with his girlfriend ,Jasmin.They have been busy settling into their new flat in Vienna.We went over in the summer to take them lots of stuff for their flat & to meet the family.They are all lovely & we had a great time.
I took some handmade items for them to make it feel like home for Rob.I made cushions & a quilt out of his old band t-shirts.I really didnt want to throw them away & some of them were designs which he had drawn himself.I carefully cut them & backed them with stabiliser & then added a fabric border & quilted the whole lot together. I was pretty pleased with the outcome.
Two very nice cushions which I was hard pushed to part with .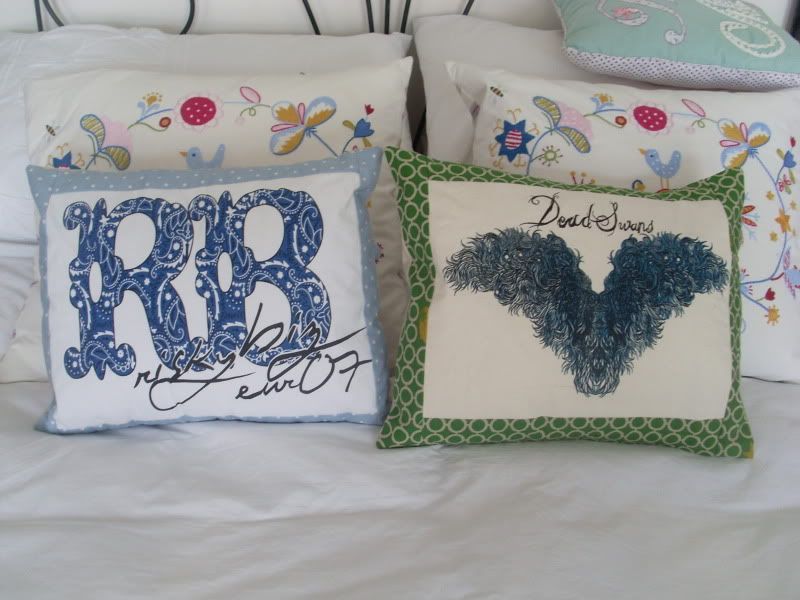 A very cosie quilt.
We had a lovely time in Vienna & Jasmin & Robbie have been home to visit too for my husbands 50th!
For his birthday we had a visit to London to do the tourist thing!!It was a great day & we watched the guards at Clarence House & even saw Princess Anne leave Buckingham Palace.
Lots of window shopping in Covent Garden & then a long train ride home.
Their visit was over so quickly & I miss them both very much.Thank goodness for Facebook,Skype & Whatsap on my phone!
We will be off to visit them very soon .I cannot wait.The christmas markets are so pretty in Vienna & I am getting excited about our trip!
The last time we were over Jasmins sister had just found out she was expecting a baby.Her bump will be getting huge now.She is due in March.I am looking forward to seeing them again.
I have taught Jasmin how to knit & hopefully she has been practising!!I will help her with a pair of baby Uggs for this new baby when we are over.