Please forgive my absence. Major things have been going on in our household & its been a roller coaster of emotions.
Firstly our little Scottie , Peggy passed away. At thirteen years of age I felt it would be someday in the not too distant future. She was a happy little soul & although she spent much of her days sleeping ,she enjoyed her food & coming up on mums lap to see out of the window.
Now if you read back ,you will find the history of how little Peggysue came into our family. She was our little foster girl & we loved her with all our hearts.
She became quite poorly & went off her food. I took to hand feeding her & for a while she was happy with this.After a few days she stopped eating or drinking & we knew she had decided it was time to say goodbye. I miss her terribly but I know she is happy & will never be in pain again.
The next thing that happened was in a space of days the following happened!We found a house we liked . The next day we sold our house & the following day whilst on our way to a wedding ,we bought the house!
I am quite excited /apprehensive!Its a huge move for both of us & our remaining No2 son. He will be moving out for a year & into student digs. We will be moving away from jobs, family & friends & making a new life in Lincolnshire.
Many people have asked us why there & the answer is simple. We no longer wish to be a slave to the mortgage & enjoy the time left together.We have bought a smaller house with a much much bigger garden & will have the luxury of off road parking & surrounded by fields.Here is the view in the garden looking towards the house. I know its not quite ours yet but it all seems to be moving along & I am sure we will get there.Goodness knows we are having a bit of a time at the moment but I am sure things will work out.
The next thing that happened is about 2 weeks ago ,my mother became very ill.Mum had a complete mental health breakdown. We are not really sure why but I am sure she has had a lot of stress recently with us moving & my brother had a fire at his farm & she had recently had a knee replacement. I have found things very difficult & although I was visiting mum every day I found it too much & now go every other day.Its so frustrating to watch her & her moods & trying to make sense of what she is trying to say & get across to us.I am reassured by the nursing team that she will get better but some days I am not so sure & it breaks my heart.
Through all this my constant has been my loving husband & children. They are always there ,even No1 son who is hundreds of miles away. Thank goodness for smart phones!!
My other constant has been knitting. I have at last finished my Debbie Bliss shrug made out of Angel. It was not easy for me to concentrate on this & I was pleased when I finally got it finished. I must get some pictures of it. I had hoped to wear it to my friends wedding but with going up to Lincolnshire house hunting at the last minute that went out the window.The pattern is in the current summer Debbie Bliss magazine. Its well worth getting. There are some fabulous patterns in there.
At the moment I am knitting a very simple project in
Katia Cotton yarn.
This is lovely cotton to knit with & comes in some really bright zingy colours. I am knitting a round cushion.
Its from this book
This is a great book & well worth getting hold of one to add to your library. It has some lovely classic pattern in from a retro tea cosie to a patch work blanket all using colour block work.
The Queens 50th Jubilee is coming up fast!To enter into the spirit I have made a small strip of bunting to go across the fireplace.I used the yarn from the knitting set i got from the Works. The colours are not fast & the red dyed my needles somewhat.This wont be getting washed in a hurry so should be ok.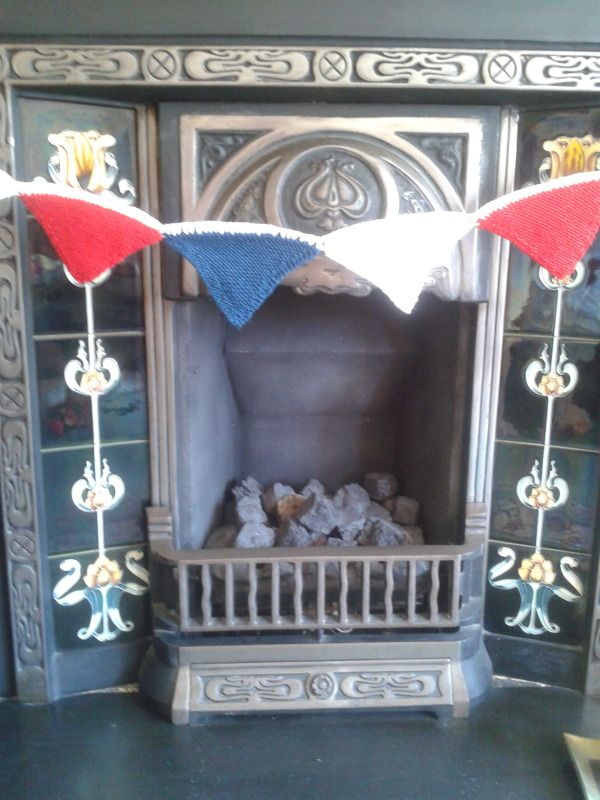 I shall miss this pretty fireplace. Our new one is a little plain at the moment but when we have time , maybe we will have a new mantle & a log burning stove! How cosy that will be.
Hopefully my next update will have some happier news in it. I may even have some completed projects to show you.
Enjoy the current lovely weather.
Lxx